What are some common terms I should know when working in Expressions?
For common WordPress/Expressions language, browse through our Glossary.
I'm having trouble logging in. What should I do?
Be sure you're logging in with your Net ID and password. Your Net ID is the first part of your Syracuse University email (everything before the "@syr.edu").
Be careful of where you're logging in. If you see the screen below, be sure you're click on the Click Here option under the "Do you have a netid? (netid@syr.edu)" text.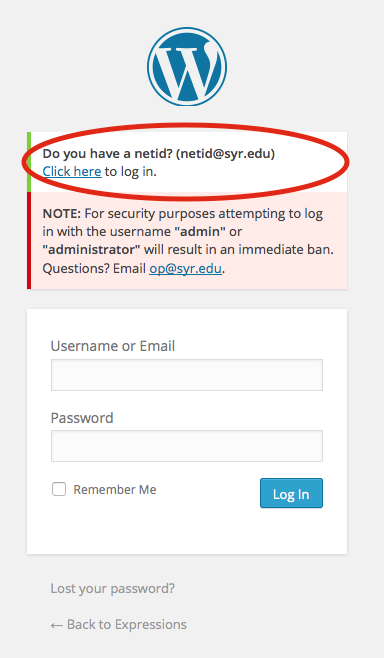 Can I change my website's URL?
You are able to change your URL or web address by purchasing your own domain name. Domain names can be fairly inexpensive and can be purchased from providers such as GoDaddy and DreamHost.
How can I create a contact form on my page?
WordPress does not have a built-in contact form, however you can use a plugin to create a contact form to be used on your site.
Can I embed content in a page or a post?
Yes – you can embed content from sites such as YouTube, Vimeo, Sound Cloud, SlideShare, etc. When on any one of these sites, you want to look for a "Share" option. Most websites allow you to share content using a link, by directly posting to Facebook, Twitter, etc, or by grabbing an embed code. You'll need to copy the embed code, and paste it into the Text area of your content editor while editing a page or a post.
Step-by-step instructions on embedding can be found here.
How can I tell which plugins are reputable?
Plugins can be created by anyone, so it is important to pay attention to the ratings given with plugins. Plugins are rated by the WordPress user community. Be wary of any plugins with very few ratings, or plugins with less than three stars. There are plenty of plugins out there to accomplish the same task, so try to only install plugins that are highly rated, with three or more stars.
How can I make my website accessible?
Tips on basic Basic WordPress Accessibility can be found here.
You can use WAVE web accessibility evaluation tool to ensure your site is accessible.
Submit your website for review by the ITS Accessibility Team to ensure it is accessible.